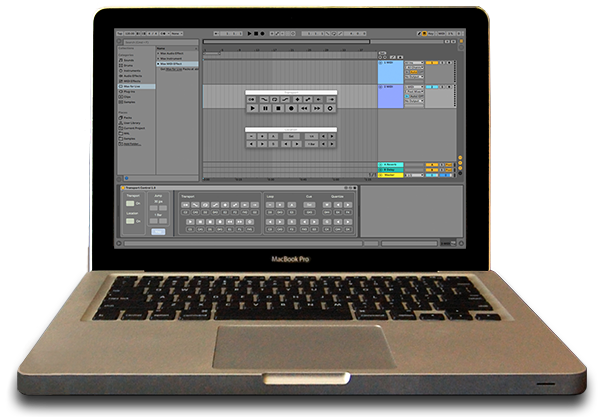 Add a new level of control to Ableton Live with Transport Control. Drop Transport Control into your project for instant access to 22 core Live features via two floating tool bars. Transport Control offers full playback control while adding new controls for pause, fast forward/rewind, and loop start/end punch. Customize your workflow even further with a built-in MIDI mapping system that lets you trigger any toolbar button with your MIDI hardware.
Adds two floating toolbars to Live
Includes new controls for Pause, FF/RW, and Loop Start/End
Map any toolbar button to MIDI hardware
Two Floating Bars for On-Screen Control
Two floating toolbars form the core of Transport Control. The first of these, the Transport toolbar, combines familiar controls with new features. New buttons for pause, fast forward, and rewind are designed to to speed up your workflow.

The Location toolbar gives you control over deeper features of Live. Dedicated buttons for Looping, Cue Points, and Quantize are organized in a compact area for quick access. New controls for punching in loop start/end points on-the-fly add even more flexibility.

Fully MIDI-Mappable Hardware Control
The floating toolbars however are only half of the equation of Transport Control. A custom designed MIDI mapping system lets you easily map any hardware MIDI trigger to any toolbar button. This custom designed MIDI mapping system bypasses Ableton's built-in system, and lets you go beyond the previous limitations of Live.

MIDI Map fly-out (click to enlarge)
Below is an example of an off-the-shelf MIDI controller mapped to Transport Control. This is just one of the infinite ways you can use Transport Control with low-cost MIDI hardware to bring a new level of customization to how you us Live.
Take Control of Ableton Live
Through a combination of floating toolbars and MIDI mapping, Transport Control adds serious customizability to Live. With it's new features and new ways to access existing ones, it's time to start using Live the way you want.
Ableton Live 11 or 10 Suite
or
Live 11 or 10 Standard
+
Max for Live Add-on